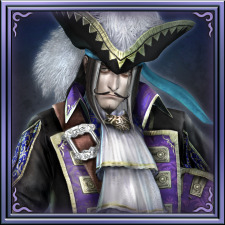 "I can't believe it....you *sniff* You *sniff* are really gone. Aren't you Davy Jones?" A man would say as the vivre card that he held within his  cupped hand would begin to fade away. Tears streamed down his face. He would wipe them and get off of his knees and then dust himself off. The place he was within had no door, or window. It was more like a large box. Within this room there were only two things. One was the vivre card that was now gone. And the second was a key that hung from a chain, that was on a nail on the wall.
He would walk over to it and take the key, along with the chain. "It is finally time." He would say before he would push against the wall and it would open, as if it had turned into a door. This Man would then walk through it. This man was none other than the Yonko Raphael Aleksejev. As he wiped away his tears and traveled through some strange world his mood would begin to shift, slowly. The grief he felt from the lost of his former Captain began to turn into something else. It began to turn into desire. The desire to gain what he had sought after for so long. The treasure of Davy Jones. A treasurer that would make a peasant rival the wealth of even a Celestial Dragon. He wanted this treasure not just because of how much it was worth, but because there were a few more things. Schematics and a set of armor. Those two things will be able to make him the strongest Yonko there is, and the next Pirate King. All he needed to do was use that Key he had and he would be able to get through the door and into the tomb. This took place the day of Davy Jone's Death.
Two weeks before the news of him heading to Alabasta would be heard he have a large feast, everyone within his crew in attendance. They all had a merry time as they were more than just crew mates. They were Nakama. They were Family.
"Listen, you pansies! Raphael wishes to speak!" A Large Mink, that stood out from everyone else would say. Why he stood out was because he didn't dress they everyone attention.
"Thank you, Hector." Raphael would sigh, he wouldn't say anything about what Hector said to address everyone. "Friends! The Man, Davy Jones, that made me who I am today HAS PASSED! His life taken away by the Marines, it is a sad...very sad day. But, I will not dwell on his death and grieve anymore. As there is something that must be done now, as the curse on that man's treasure is no lifted with his death! We will, all of us, head to Alabasta in two days, so prepare!" he wouldn't say anything and for the next two days his crew will begin their preparations. Especially his First Mate Hector. And after those two days of preparations the Yonko would open a door, this door being the largest any of his men have ever seen. And their force will traverse through it, ships and all. He didn't do this to shorten the time it would take to get there but to make sure there would be no problems they faced before arriving to their destination. And so that the Mariens will not be able to see exactly what type of force the Yonko was bringing. Also this was the time where he would begin to explain, in depth, his plan to his Nakama. Specifically his commanders.
And on the day of their arrival The Yonko and his men would go separate ways; Hector being the only one of is Commanders to stay with him. Raphael's men would be allowed to leave out of his dimension they traveled through, while the Yonko and Hector stayed. Their Observation haki pushed to the limit so that they can keep tabs on everything around him once they entered the Capital, and outside of the other dimension. These two would make their way to the capital by the quickest way. Allowing them to arrive to the Capital at exactly twelve-fifteen pm, but they wouldn't leave from the dimension they were in. Raphael and Hector weren't her to be the distraction, they were here for just two things. Nothing else matter, and no one else mattered.
"Okay, we are here. Let us part, you head to the treasure, I'll wait for the distraction to happen." Hector would say, and the Yonko would nob his head and open a door. The door would be within a alley no one was near, at this point and time and Hector would then walk out. The Yonko would then close the door and head to the Clock tower. The time it taking him to get there being just ten minutes.
Hector was someone that was too be avoided at all costs. This Mink was the one who had brought the other Minks into this battle. He was the one to create the Maps that would lead even more people here. These Minks, every last one of them, where under his command. Though, they wouldn't address him as his superior at this point in time, just another Mink with them. The one that they will be considering their Leader would be Ren, who hasn't made his appearance just yet but is within the Capital. These two Minks were working together for something, that something being what Raphael was after.
Hector would lie to Raphael, on their way here, that the Minks wouldn't attack him if he tried to join their ranks. And that he would work under them to hinder their attempts on capturing treasure and that he would also deal with Ren when the time came.  A lie that his child hood cremate would believe without second thought. Hector though, this large naked Mink, was someone not to be trusted though. As he wasn't really anyone known like the Yonko Raphael, he was worse. He was a
Beast
that loved the Thrill of battle and also someone that loved to cause great conflicts, such as this one. He would join the ranks of his fellow Minks once they had broken through the Eastern Entrance. Helping more than people know, with his truly strange black double edge blade. It's total length being 150 cm and blade length being 110 cm and whilst the thickness of the blade was was 8mm. The Blade being in his left hand out and ready to be used again.
His Haki had picked up on the boy, someone that had traveled to his homeland before. Someone that he had only seen once, whilst he was a Child. He knew exactly who his Mother was, as she had scarred him long ago, due to Hector's arrogance. That fight happening before the child was even born. She was someone that he knew. And after this he would be coming for. So, to get that ready he would indeed draw a large quantity of Blood this day. When he had joined their ranks he had positioned himself near the back of the group. To the left of Apollo, two people in between the two.
OOC:


I'll be controlling Hector and the Yonko. I will post their stuff things we combat is initiated. So my next post.

Location: Yonko is at the Clock Tower. Hector is int he East.