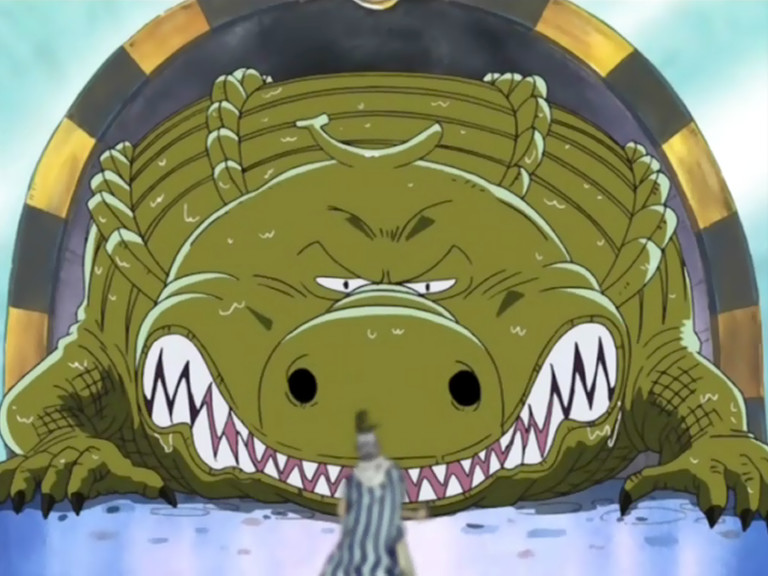 Name:
Wani
Species:
Saltwater Crocodile | Bananawani
Tier:
4
Total Experience:
150,000
Primary Attribute:
Speed
Description:
Bananawani are giant crocodiles with banana-shaped growths on their heads. They are so fierce that they even prey on Sea Kings and are to date the Sea Kings only known natural predator. Bananawani is a portmanteau of the Japanese word "wani" (which means alligator or crocodile) and the English word "banana". "Bananawani" is also the name of a Japanese park, where people can see plants, crocodiles and turtles.They are classified as type "C" creatures being "Big Savage".
Wani is ten feet in height at Tier 4, which is a baby compared to the almost Warship size adult Banawani, sizes it can grow to in the later stages of it's development and life. His skin is as durable as any crocodile's own, having the jaw power of to clamp down on it's prey's with 3,700 pounds in force, around that of T-Rex. It's feet are three feet in length and it's tail is about four meters in length. On it's head are several skin lumps which look like bananas.
Wani is six meters wide and weighs over 1,000lbs and is very agile for it's size. As mean as Wani looks, he's very fun loving to friendly faces but as for those who he doesn't recognize, he's often roaring at them, to keep enemies at bay. His greatest joy is the thrill of the hunt, hunting it's own food and feeing on Sea King's that approach the Dutchman in any direction.
Special Characteristics:


Predator's Lock: Being a variety of the Salt Crocodile species, Wani's jaws are incredible strong in nature. All Wani's Skills done with his jaw's scale in one tier higher in Strength.



Thick Skin: Wani's tough skin makes it difficult for attacks to penetrate it's skin. +1 Durability when facing piercing based attacks.


Haki:
Busoshoku Haki
History:
At Water 7, Junbei encounters Wani at a nearby scrapyard, injured, with it's leg wounded. After getting his good friend Octavia to nurse the colossal beast back to health, Junbei becomes close buds with the gator, offering him a spot on the crew as a Songbird. The crew hold heartedly against the notion of having a man eating animal on board but Junbei's stubborn nature brought them around to agreeing with the notion. Wani was once a predator in the Calm Belt, after getting injured in a conflict, it followed the Sea Train all the way back to Water 7. Wani was abandoned by his parents after his birth in the Calm Belt, left to fight among Giant Sea King Predators, to the point, that when Wani encounters Sea King's, he looses his sense of reason and attacks with no remorse. Aside from his time wondering from Ocean to Ocean, Wani truly is in search for a connection with a human worth his time, if Junbei is truly that person, only time will tell. After the timeskip, Junbei and Wani's relationship has deepened greatly, to the point where Junbei and Wani have worked out a special frequency which will cause him to come flocking to Junbei's location without any words or aural commands needed.


Last edited by Lazarus King on Sun Feb 26, 2017 8:33 pm; edited 1 time in total