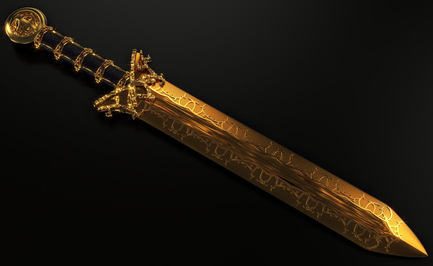 Equipment Name:
The Virgo Blade
Equipment Type:
Cursed Weapon
Strength Requirement:
1
Equipment Description:
The Virgo Blade is a fully Gold Titanium Alloy metal that is personally created by Magnus. The blade is 8 inches in length and two inches wide. The blade itself is a pure gold color with ripples and waves swirling all over the blade. The cross guard is rather simple in design with swirling gold patterns all over the guard. The sheathe of the Virgo Blade is made out of the same material, but the sheathe is covered in a leather covering.
Attachments:
None
Curse:


Curse of Roses - This curse revolves around roses, rose vines, and the thorns of the roses. The Virgo Blade has the ability to make roses grow in what it slices with its blade. The Roses will grow at different speeds, and they will grow in different ways for different purposes. The Rose vines are extremely parasitic in nature. They will feed on the blood of the opponent to grow faster. (Skill) In addition to the roses loving blood, they absorb some from the user before they can set their seeds within the opponent's bodies. The more cuts and vines placed on the opponent the more blood that is needed from the user. (The amount of blood and the weakest is comes with it. Differs from the three techniques of The Curse) Another Drawback to the Virgo Blade is that it is extremely weak against fire. The vines can be treated by simply pouring some black powder on the wounds and vines, and they will be burned away saving the user.

Materials:


Gold Titanium Alloy - 750.000 Beli

Black Leather - 75,000 Beli

Total: 825,000 Beli

Units per Slot:
1
Experience:
0