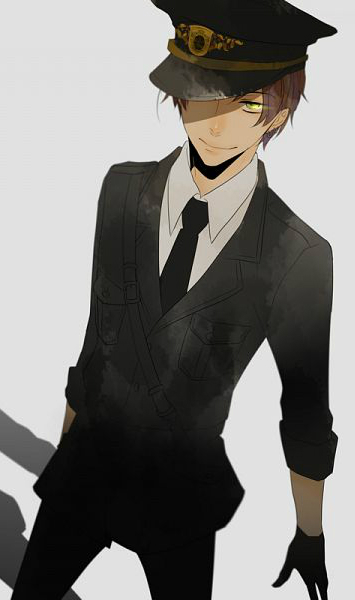 Alphie Q. Basa
Dream Chaser
Alphie gave a quick sniff to the air of the foreign territory he and the other Marines in his company had just docked at. It was Crescent Island, not an island that was frequented by Marines or the World Government in general, that said after all the Marines in the company would get off the vessel, it would begin its route to other waters. They had a small outpost set up northward in the wilderness that was used every blue moon the boys in blue did touch down on either of the two islands and that's where they would stay.
Despite being an Ensign, Alphie wouldn't be caught dead wearing their retched uniforms. He despised Marines and though he was one now, he only saw it as a stepping stone in his life to get further. Sometimes you had to suck it up and just do what you gotta do to survive. Still however, he knew as a Marine he had a certain level of classiness he had to uphold to not get shit from his superior. So he wore an officer's jacket, not a Marine officer jacket, that's just the style of jacket it was. The sleeves were rolled up to right below the elbows, then he wore black gloves on his hands that matched the color of the jacket. A white button up was visible in the "v" of the officer's jacket and also a black tie of strangulation he had been gifted by his superior. Every time he put the damned thing on he cursed the man in his mind and told himself,
"I'm just wearing this so I don't get fined."
Anyways, on his legs he wore black dress pants, then nothing special but some nice dress shoes, but like any Marine he had to be armed. They were here pursuing a certain pirate after all. Same-kiri Bocho on his back, then his pistol Curtail was holstered on his hip for quick and handy usage. 
As the Marines of the company filed on ahead of him while he yawned, Alphie gave the area a glance to see the island was very tropical looking as the native's skin was rich with melanin. Their eyes seemed starved of Marines as well as their eyes followed each of the sea dogs curiously and perhaps cautiously as well. "Just proceed through the town by following this trail to get to the Outpost." That was their Captain speaking, Captain Blanka. Mixed somewhere in the riffraff of Marines, Alphie simply followed hoping some bullshit with their target broke out soon.