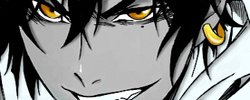 Im bored
"You know I never did understand why you were here?"

✥ ✥ ✥ ✥ ✥ ✥ ✥ ✥ ✥ ✥ ✥


Leon shrugged at the mentioning of transportation. "Well, like Kal I swam as well." Leon said, not asking if he could shorten the guy's nickname. He just found Kaldur to be too many syllables for his liking. Kal was much better to scream out if he got into trouble or needed help. The Dur part did have a charm on its own, maybe he could get whoever would attack him to stop by confusing them. Imagine that, calling for reinforcements by screaming DUUUUUUUURRRRRRRRRRR. The enemy would be confused and it would be a pretty funny way to cause confusion. Though calling someone dur sounded a little like a derogatory phrase. So he left it alone.

With that he would push out his bare hand to reveal the webbing on them. A sign of a fishman that dwelled underneath the robe. The point of the robe wasn't to hide his racial features, though it helped when dealing with certain folks. It was to hide his face. Contrary to how the world actually viewed the fishman, he after his time as a bandit he felt that if he could be pursued at any time. Though this didn't matter at the moment though. Now that he had revealed his race he would point out at the sea.

"So are we just gonna sit here and chat like a bunch of bored housewives? Or we gonna take out that ship?" he asked in his normal crass tone.


✥ ✥ ✥ ✥ ✥ ✥ ✥ ✥
TAG:
WORDS:
NOTES:
OUTFIT: link