Special Chapter: Treasure Island?
☠
Event Task:


Task Name: Treasure Island?
Tier: 3
NPC or PC: NPC
Location: Universal
Crew, Team, or Personal: Personal
Description: Treasure Island!

Word is there's a map that leads to untold riches from a lost age. The map itself is said to look like a like nothing more than an old piece of parchment with no real significance. However it's been stained with blood from changing so many hands over the centuries. Even before one piece became a legend in itself, treasure island was already a mythic place. Said to make the Fake gold city of Noland Blanc look worthless by comparison. However the map is also said to have been cursed and that anyone not worthy of the trek is bound to meet misfortune and mayhem upon picking up the cursed map.

Enemy Details: 50 T0 pirate grunts, 3 Ships surrounding a flagship with the map, 25 T1 pirates marksmen, 20 T2 Pirate swordsmen.

Note: For those that don't have cursed hands and touches one of the Map they are thrown into a coma and only can escape by fighting themselves in their mindscape.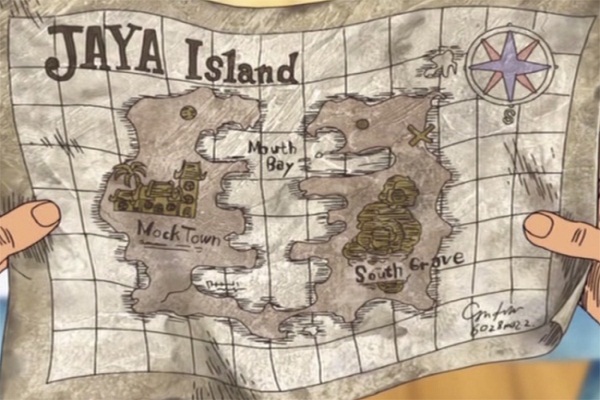 Gusts of the harsh world of a pirate kicked in during this time for Jacky, it was at this time the blue haired punk known as Jacky struggled in the beginnings of his journey to come. Stranded amidst the infested population of Pirates that Jaya had, the youth was forced to come up with beli by doing jobs and tasks assigned to him by the visitors and residents of Mock Town. In this day of age of being a pirate, no Pirate ever was handed a grand ship to sail out to sea aboard. Ruckus from his initial arrival into Jaya's Mock Town did not lend Jacky an easy entrance to the people's trust as Jacky also took in a former Marine sailor whom was infamous around the area for his annoyance. Around this exact time that the youngster was sweeping up and taking care of island bandits for an elderly couple, vicious sails and jolly rogers scuttled across the ocean's blue waters whom held a valuable that would soon be fought over.
Beyond the town of the Mock, laid a white dressed male with a badge or shall I say pin of an anchor attached to his sailor outfit that symbolized his passion for navigation and adventure throughout the seas in general. Under an balmy palm tree with coconuts hung up on and under it's cooling leaves, the white dressed male relaxed with both hands behind his head; laying on his back. "I wish Jacky could hurry and rack up the money for a Log Pose already! It'll be boring if we stay here any longer. Just take a look at the shining radiant ocean! Can't wait to set out! Imagine all of the cute girls and delicious food out there waiting for us!" Is what the formerly affiliated Marine had thought as he stared at the sky and sea with it's morning sun being flung high in the sky as a new day dawned upon the duo.
"Oi! Jacky! You get rid of those damned bandits yet boyo?" An elderly woman asked Jacky as her husband stood behind her with a wooden cane. "Yup! Taken care of! They even returned your money that they said they had already spent on booze!" Confirming that Jacky took care of local bandits in which had tampered around with an elderly couple located on the outskirts of Mock Town. "Anyways! I'll be off for now! Need to look for Joey! He always wanders off into the outskirts for some reason..." Letting the elderly couple of Mock Town know about his temporary absence from jobs as he took his reward for taking on the bandits. Though it was the outskirts of Mock Town that Jacky was at, there were talk among the people of the town as Jacky strolled out of town in search of a friend of his.
"Oi! Isn't he the kid that everyone has been talking bout lately? I heard he somehow escaped from one of the marine captains who chase down Pirates escaping to Mock Town." Discussing rumors circulating around Jacky's sudden appearance within the area of Jaya, the town's people glanced at Jacky for a bit before then going on with whatever they were doing previously. Catching slight ear of the people around Jaya mentioning him, Jacky wondered if he had really made an impact within the island. Although they mentioned Jacky, this was the case for lots of pirates that happened to grab any sort of attention even if for a few minutes.
Pouncing as if he was a mountain tiger onto a few fairly large stones, Jacky climbed up toward a higher elevated piece of land in which resided a dear fiend of his; Joey. "Yo! What are you always doing Joey? Like your always up here just staring off at the sea. Anyways, have you seen any ships lately? I heard from one of the bandits I just chased down that they were to invade a few pirate ships carrying a valuable item with their group of fifty." Questioning Joey on if he happened to witness any ships sail past Mock Town into the wilderness of Jaya Island. "Actually, I saw not a few ships but instead it looked like it was a whole fleet of Pirates trying to conceal themselves within last night's fog. You better chase them down, they could very well be hiding a shit load of cash. I'd go with you but I'm sure you can handle it on your own Captain! Your bounty did go up after all! Take a look! Its rose all the way up to one hundred million!" Mate of Jacky's showing him his new bounty after causing an uproar in Mock Town on the first day of his arrival in town.
"Damn.. they really want my head after that incident on the first day here. To think that I'd obtain a bounty so early on, having not even established a crew or set out to sea with a ship of my own. Welp, I'm off to steal some valuables from those pirates!" Announcing his personal invasion into the fleet of pirates whom he heard are in possession of a valuable item, Jacky pounced off the cliff and onto the top of a Mock Town building in which appeared to be a salon. Jumping with a spring within his step, Jacky landed onto the town's flooring and went over to the lighthouse located at the ends of the town. Charging his fruit's battery with the lighthouse's battery, Jacky set out with his battery filled to the maximum amount. Racing throughout Jaya Island's wilderness, Jacky carries a bandit who he encountered earlier morning in order to successfully locate the the whereabouts of where these pirates will be stopping.
"Yo Baldie! So what exactly are they holding in their possession that is so valuable?" Asking the kidnapped bandit he is carrying, Jacky undoes the tape on his mouth. "I'll never tell you! I know who you are! Your that kid who caused a wreck within Mock Town all for protecting some annoying marine! I'll never tell a stupid brat like you the location!" Vowing to never speak of the location of in which the bandits were going to invade the pirates. "If you don't tell me where the pirates will be stopping then I'll have no choice but to turn you into the marines! Ehe! They'll pay a nice price for a bandit like you who has probably stole tons from helpless people!" Blackmailing the ballsy bandit, Jacky takes aloft a smirk.
"Okay! Okay! The Pirates are stopping at the bridge between Mock Town and South Grave! Listen! As crazy as it sounds, they have a map to a map. By now they must have already gotten their hands on the second map. This second map is said to lead to the location of a legendary island and it's name is... Treasure Island!" Speaking of the location in which the Pirates shall be stopping at along with details on what type of valuable they have possibly already obtained by now. "Tr-Treasure Island!?" Is what Jacky exclaimed as his soul was shook to the core by the reveal of this legendary island's map location amidst Jaya Island though probably already claimed by the unknown Pirate crew.
Utilizing this bandit as a source of navigation, Jacky went on through the wild of Jaya until he encountered a fleet of ships all starting to depart from Jaya Island. "Shit! They must have already taken off with the map!" Pondering to himself on how he'll catch up to the departing band of Pirates. "Uhm.. Not to disturb you but there is still a ship that has yet to depart. Now I beg of you please! Release meeeee!" Revealing that there is still a remaining ship whom has not set out with the other ships, the bandit begged to be freed. "Jackpot! Aight.. You're free!" Untying his navigation tool, Jacky set forth to take over the ship.
WC:
1330
WC Total:
1330
WC Required:
2400
Stamina:
310
Electrical Energy:
20/20 - Lighthouse's Battery Consumed = 20