"MOCK TOWN IS IN SITE SIR! WE WILL BE IN RANGE IN TWO MINUTES!" Would be heard on the Guide ship. The Marine within the Crow's nest being the one to alert those on the deck of the Warship. Admiral Cudi would take in a deep breath as he didn't need to say anything to the men on his ship, as they were trained for just this. His personal men new exactly what to do at this moment, he would though relay this message. Picking up his den den mushi, which was aided by another one so it wouldn't be tapped.
"MAN YOUR STATIONS! AND FOLLOW SUIT!" Admiral Cudi. All he was doing was alerting them all to get ready for battle.  The formation was a simple Vee formation, the Guide ship at the point. But once they would reach the mile mark each ship would fall in line, a twenty meter gap between them all. Use the pirate as reference for how they will be lined up. The distance from Mock town was a 1.6km.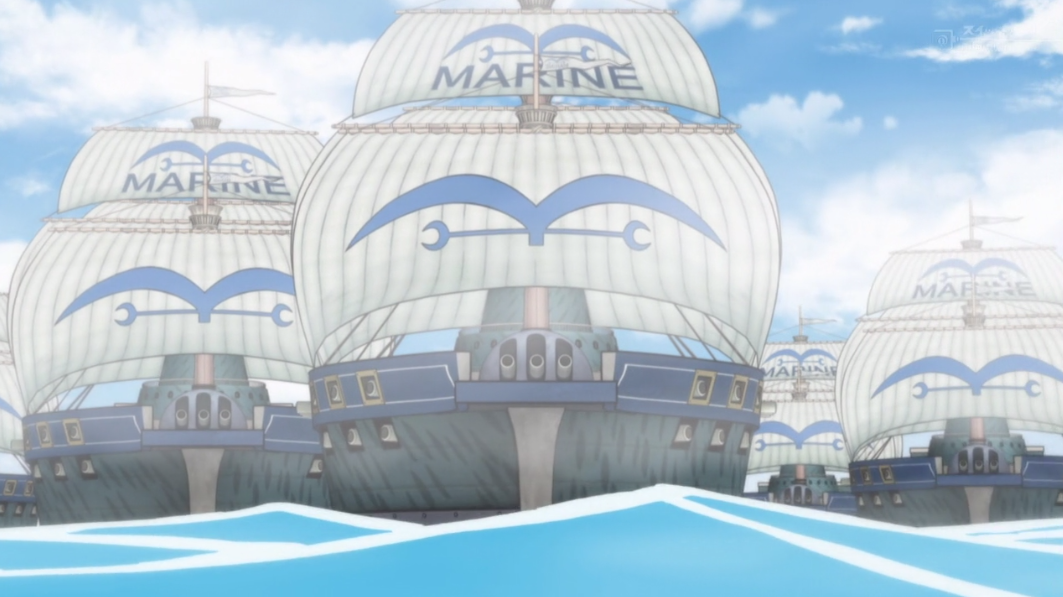 The Guide ship was only comprised of the troops under Cudi, no one else was allowed to join him. And those that had been on it had been told to leave and join the ranks of one of the other Warships, as he didn't want any errors. He also had given command to one of the Warships to a new Vice Admiral, and they had free rain to do what they wanted with it. Though, he didn't expect much he wanted that Vice Admiral to just get a bit of experience. There was also a Giant that he just didn't want near him, as he didn't trust such creatures. He wasn't allowed to take command of any of the ships but he could be where he wanted, well other than on this ship. As a Giant, well just one, could be on a Warship as these ships weren't small at all. The cannons at the front, the bow, of the ships were magnificent instruments of destruction. Their capabilities being nothing to scuff at, as almost any ship can be taken down with just one fire from one of the three cannons. But, these aren't the only weapons in this fleet that will deal damage beyond comprehension.
"FIRE!" Admiral Cudi would say as his ship would be the first to unless it's attack. It's aim being the docks as to eliminate any form of escape. Two ships dock would be utterly annihilated from the attack, if nothing was used to prevent the attack. The other cannon ball would actually sail passed the ships and hit land, scaring the earth. It has begun and it will only stop when one side is completely whipped out.
Currently the other fleet of warships has not made it to Jaya Island.