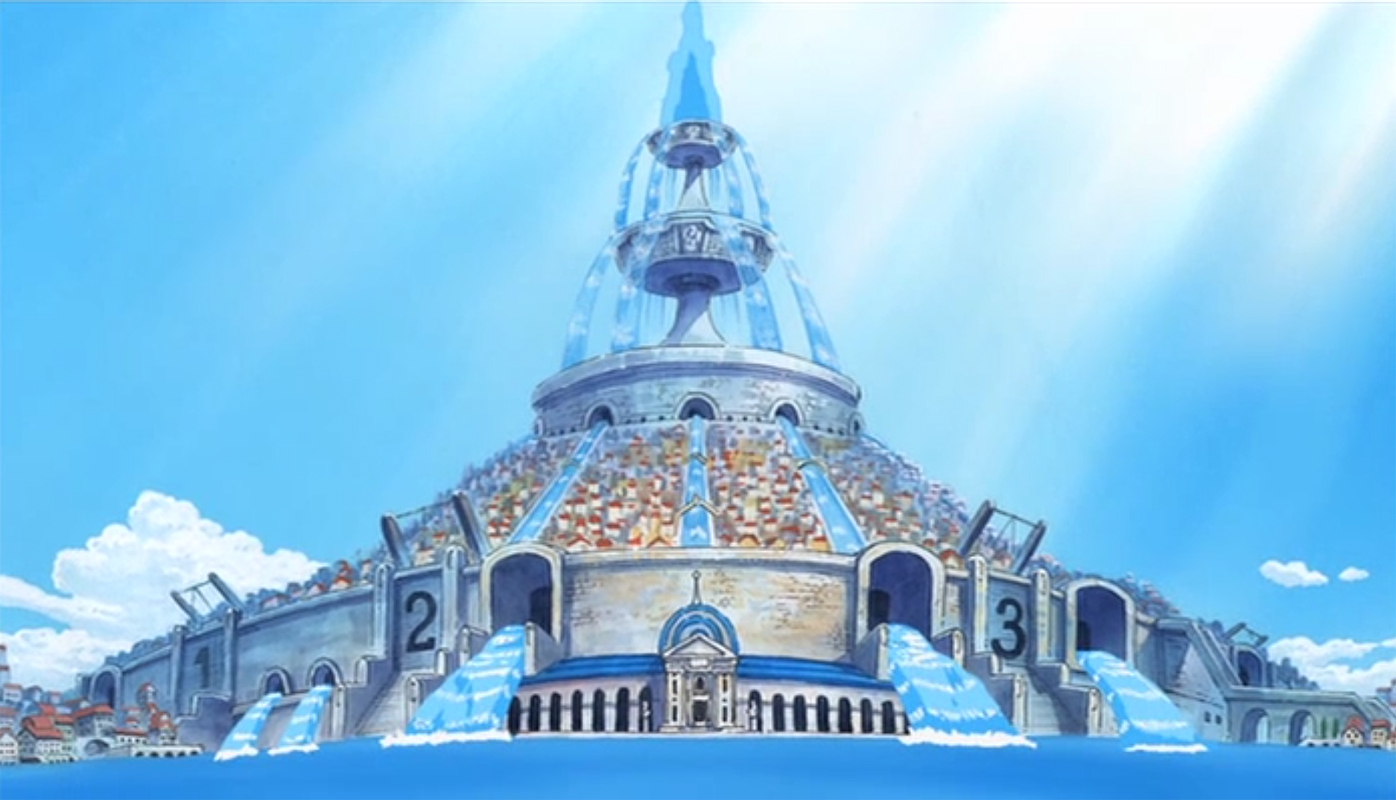 At sea, the Songbird's drifted searching for the next island to come into scope, however, within moments of anticipation, an island came into radar on scope, it was an island known as Water 7. Over the intercom, "Alright boys! Land-Ho! I've changed our course using the Sea Maps in the Dutchman towards Water 7!" Charlotte announced. "Water 7 is an interesting island honestly... It used to be dry land and then over the years it's developed into an island known for it's unique architecture and quality shipwrights." Charlotte concluded. "Unique Architecture?" Junbei said, tilting his head pondering. Exiting the navigation room, moments before the Captain's question, "You'll see it soon enough Junbei!" Charlotte announced.
As the ship sailed towards the second dock area, the Songbird's were redirected to the ship dock, where all incoming vessels are situated. However, as they approached closer, the colossal Dutchman made the citizen's gawk at the ship's massive size. Leaning off the side of the ship, Charlotte's dazzling eyes would wink at one of the locals, "Hey! Is there anyway around here we can dock our ship for repairs!?" Charlotte inquired.
"U-U-"
the man said nervously, intimidated by not only her looks but piercing eyes.
"Our cities known for our shipwrights! And with a ship this huge... I'm guessing ya'll are a pirate crew right?"
the man inquired grinning. All of the townsfolk huddled around at this point. "If ya want your ship worked on Sweetness, head over to the Galley-La Company... They'll fix it for ya!" an older gentleman, blushing at the print of Charlotte's top would say. "Thanks!" Charlotte would announce, as the ship slowly slipped away.
"Whew. I'm surprised she talked to those men so easily." Caprice said, sitting at bay waiting to pull her away from the ship's rail. "What do you mean, kid?" Nico inquired, lighting a cigarette for his afternoon smoke. "Look. First off, if we're going to be crew mates now, My name is Caprice. Secondly, Charlotte's hates men. I'm guessing all of her time with us is making it easier to interact now. I wonder what's going on with her and Jade. Before, she had tunnel vision, she used to dot on Junbei more. Now's she always staring at Jade in her off glances." Caprice said scratching his head in confusion. Taking a tote on his cigarette, "It's called a conflicted heart! A young maiden torn between the man who saved her and her all powerful Captain! Beautiful!" Nico said swirling around. "Ugh. Right." Caprice would state with no emotion on his face.
"Hoho... I've never seen anything like this before." Juju said looking around. "The canals are so wide... enough to fit warships... and even so... that giant fixture is spouting water into the roads... but it seems the main routes into the city, the inner canals are much smaller." Juju observed. "Rishi Rishi... Not only that... Look at the houses... It's like they're stacked on top of each other. I guess I get what Charlotte meant." Junbei said chuckling at the beginning of his sentence. As the Dutchman cruised on the outer canals, in a few minutes, a huge gate to a garage like site opened, it was the gates to the Galley-La Company's docking yard. "We're here everyone!" Junbei would announced, throughly excited to explore, jumping up and down, clapping his sandals against each other.
MADE BY ★MEULK
Skills | Misc Traits. :
Stamina | Haki Usage:
NPC's Present :

Juju, Caprice, Charlotte, Nico